How does the web work?
Let's take a tour! A typical web site will live or is "hosted" on a web server. Web servers are often large computers connected to a network.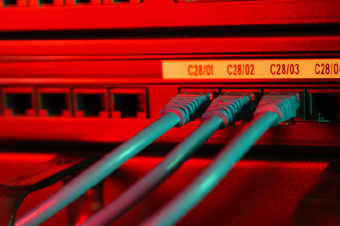 Photo credit computerroom085 cc
Step 1: Type an address into the address bar

Step 2: Your computer performs a DNS lookup
Each website has a unique code, called an IP address, that is like a phone number.
DNS, or Domain Name Servers, are like phone books. The DNS servers will connect you to the right server.
girldevelopit.com → 205.178.189.129
Step 3: Your computer connects to the server
Your computer uses the IP address to find the correct web server and sends a request for a page.
Step 4: The server reponds to your request
The server processes your request and finds the right files. Sometimes it has to "compile" a page from code and other sources, like a database.
Step 5: The server sends your computer the files
This is usually an HTML page, with some CSS, JavaScript, or media files.